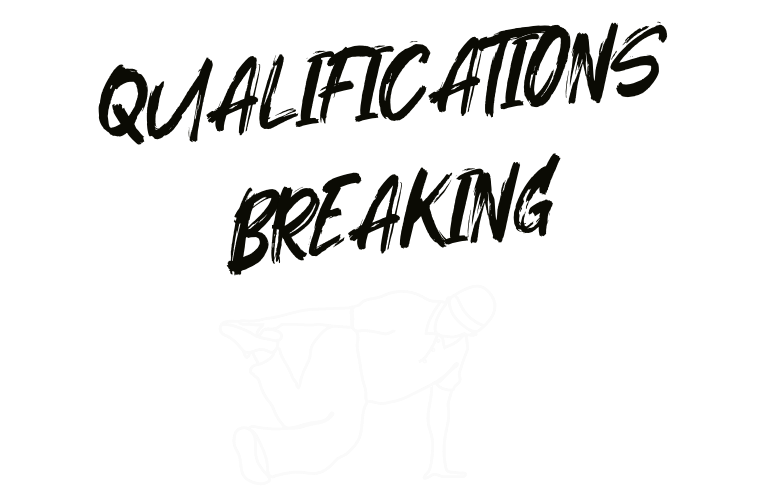 REJOIGNEZ LE TOP 16 BREAKING !
Côté breaking, une qualification organisée le jour de l'événement permettra de prendre les quatre dernières places de la line up 2023 !
🇫🇷 Le « One-One Battle International » aura lieu le dimanche 01 octobre 2023 à Carcassonne, France, au « Centre de congrès – Le dôme » de 16h00 à 19h00. Des qualifications pour la catégorie breaking auront lieu en amont de la compétition principale, le dimanche 01 octobre 2023 de 12h00 à 14h00.La catégorie breaking du One-One Battle sera une compétition solo en Top 16.
11 artistes seront directement invités par les organisateurs, et 5 places resteront à prendre via la qualification.
Les 3 juges du « One-One Battle 2023 » jugeront également la qualification breaking.
🇬🇧 The « One-One Battle International » event will take place on Sunday, October 01, 2023 in Carcassonne, France, at the « Centre de Congrès – Le Dôme » from 4:00 p.m. to 7:00 p.m. Qualifications for the breaking category will take place before the main competition, on Sunday October 01, 2023 from 12:00 p.m. (noon) to 2:00 p.m.
The One-One Battle breaking category will be a Top 16 solo competition.
11 artists will be directly invited by the organizers, and 5 places will remain open for the qualification.
The 3 judges for the "One-One Battle 2023" will also judge the breaking qualifications.